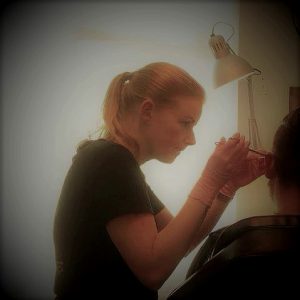 Scroll down for English
NL
Mijn naam is Leonie Haverkamp en ben een piercer sinds 2008. In november dat jaar heb ik het vak geleerd en startte mijn eigen kleine shopje daarna thuis in Nunspeet. Door familie, vrienden en kennissen te piercen, kreeg ik het vak onder de knie en kon ik alle apparatuur en benodigdheden voor de shop bij mekaar sparen. Toen ik alles bij elkaar had, kon ik mijn vergunning krijgen van de GGD.
In 2012 ging ik op mezelf wonen. Ik vond een appartement in Harderwijk, die groot genoeg was voor mij en de shop. De shop werd twee keer zo groot dan dat het was, dus ik kon niet wachten om daar te beginnen.
Na de verhuizing werd het al gelijk drukker in de shop. Dus als gauw kon switchen van een fulltime baan naar een parttime baan. Zodat ik dan meer tijd had voor klanten. Ik kocht ook heel veel nieuwe sieraden in en begon ze te verkopen op de Zomerbraderie in Ermelo.
In de afgelopen jaren heb ik ook op andere markten, conventies en festivals gestaan. In 2015 begon ik fulltime te werken in de shop. Natuurlijk is het soms lastig om je eigen bedrijf te hebben, maar ik wil niets liever.
Ik ben ook een dromer. En vaak zijn het grote dromen. Een van deze dromen was om een webshop te beginnen en dat werd realiteit in 2017. Zo kon iedereen die de shop kende of tegenkwam online, zien wat ik in mijn collectie had en het bestellen waar en wanneer ze maar willen.
Nog een grote droom van mij was om een pandje te huren voor de shop. De shop werd steeds drukker en dat was bijna niet meer te doen in mijn appartement. Dus ben ik op zoek gegaan en na een tijdje zoeken kreeg ik het pandje aan de Bleek 2. Ik kreeg het nieuws dat ik hem kreeg, te horen precies op de dag van mijn 12,5 jarig jubileum. Is dat meant to be of wat? Sinds 22 juni 2021 ben ik daar te vinden en werk ik met nog meer plezier.
Ik ben dankbaar voor iedereen die een bijdrage heeft geleverd aan de shop. Maakt niet uit hoe groot. Klanten, familie, vrienden, zelfs de mensen die een sieraadje kochten op een van de eventementen of waar dan ook. Dankzij jullie is de shop geworden zoals hij nu is. Laten we daar vooral mee doorgaan.
Ik doe het al een tijdje en ben vooral nog niet van plan om te stoppen…
ENG
My name is Leonie Haverkamp and am a piercer since 2008. I learned the crafts in November that year and after that started my own little shop at home in Nunspeet. By piercing family, friends and acquaintances, I was able to get the hang of it and save money for equipment and other necessities for the shop. When the collection was complete, I was able to get my license from the Dutch health department (GGD).
In 2012, it was time for me to spread my wings and live on my own. I found an apartment in Harderwijk that was big enough for me and the shop. The shop became twice the size than it was, so I couldn't wait to get started.
Right after the move, I noticed the shop was getting a lot busier. So in due time I was able to go from a fulltime job to a parttime job. So I would have more time to work on clients. I was also buying a lot of new jewelry and started selling them on the summer markets in Ermelo.
Over the past few years I have also participated on several other markets, conventions and festivals. I started working on the shop and clients fulltime in 2015. Of course, it's hard sometimes to have your own company, but I wouldn't change it for the world.
I'm also still a dreamer. And I always dream big. One of those dreams was to start a webshop and that became reality in 2017. This way everyone who visits my booth on events or just happens to find me online, could see what my collection looks like and order it whenever they want, wherever they want.
Another big dream that came true is to rent a store space for the shop. The shop was getting way to busy for my appartment. So I started looking and after some time I got the store space at Bleek 2. When they told me I actually got, it was the exact date of my 12,5 year anniversary. So that's very meant to be. Since June 22th 2021 you can find me there and I am even more excited to work now.
I'm thankful for every single person, who made a contribution to the shop. No matter the size. Clients, family, friends, even people who just bought a piece of jewelry on an event or wherever. Thanks to you the shop is the way it is now. Let's not stop now.
I've been doing this for quite some time and I am far from done..